Project Study: Worth The Effort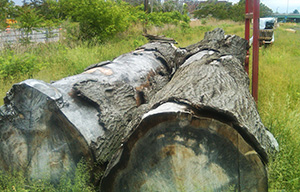 We get a lot of calls about "Monster Trees" and, from a common perspective, they often are. But in this case, it WAS a monster log. The customer had managed to get a local lumber company to pick up and store these behemoth logs at their yard. Fast forward 2 years, and MDB received a call about the feasibility of utilizing the wood in an expansion on the property it came from.
Being a subspecies of oak, the tree was not considered marketable lumber, and had quite a few limbs that limited the amount of trunk worth sawing. But that trunk was worth sawing, as it would provide the opportunity to produce quarter sawn boards 14"+ wide. Despite being an unusual species, the ability to quarter saw the majority of it made it worth while, as the pattern produced in the wood by sawing this way would far offset the less desirable qualities.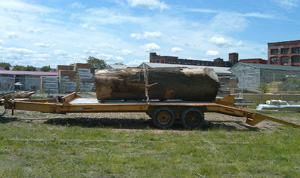 Cutting the one log worth milling down to 10 feet, MDB picked it up and brought back to the shop. Then the fun began; at 47" at the small end, it was 70% larger than the sawmill could handle. Because we were after quality quarter-sawn boards, a more delicate break down was called for than other methods. Using a device called an Alaskan Sawmill, driven by a large chainsaw and two people, the log was slowly taken apart (see images below and and this video link

) into pieces manageable for the Band Sawmill.
Two days later, the Bandsaw took over and 3 hours later a pile of 1,011 BdFt of 4/4 and 5/4 lumber was ready for the kiln. Unusually, once the material came out of the kiln, it was the end of MDB's involvement in the project. The lumber's next stop was a cabinetry and furniture shop to be turned into some pieces for the customer. But, what was nice was that the project stayed in the complex MDB Industries is located in, Bloomfield Industrial Arts, at Out Of the Woods.